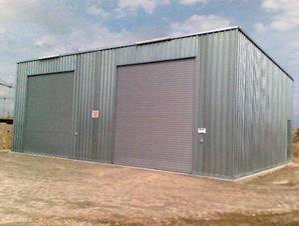 Steel warehouses: Optimum space solutions and storage solutions
You are looking for a solid, flexible and economical spatial or storage solution that exactly meets your individual requirements?

A warehouse construction made of steel, with an impressive appearance? Or is your storage space no longer sufficient and therefore you are planning to expand your storage area? Or do you perhaps need short term additional selling or exhibiting space? With Best Of Steel you have a competent partner with over 20 years of experience in the design and construction of steel halls.

Our experts are happy to help and on request can develop together with you a steel warehouse suitable for you.

But we can do even more: depending on the size of your steel hall, the construction of our permanent halls from high strength steel can easily be done yourself, as we offer detailed instructions for support. Of course, we can also build your steel warehouse for you.
Steel warehouses as an economical space solution
A further benefit of our steel halls is that no expensive foundation is needed for the construction; the hall can simply be mounted on level ground. Furthermore, our steel warehouses can be extended in the depth at any time in modular 2m steps. Finally, a verifiable static calculation, which is included in the delivery, makes obtaining a building permit easier.

The steel halls from Best Of Steel are, depending on design, suitable for use as a warehouse, tyre storage, prefabricated garage or as a workshop hall. So that you get a suitable steel hall solution for your individual requirements and your specific needs, we offer in addition to our extensive product range a comprehensive service package, which includes the following:
Our steel warehouse specialists with their technical expertise can support you in all questions concerning the subject steel warehouses and can advise you in detail in the planning so that your new steel hall is ideally suited to your needs
Offers are worked out in detail or as a fast offer punctually submitted. We support you in the choice of the right steel warehouse solution for your requirements.
A punctual delivery of our steel warehouses is ensured with our own vehicle fleet. Together with our freight forwarding staff, we can thereby guarantee all customers short delivery and, if requested, construction times on our steel warehouses.
Would you like to find out more? Then please contact us! We are always happy to assist you.