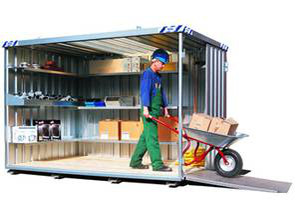 BOS Building Site Container with 10 year corrosion guarantee on the Best-Point joints
The basis of efficient work organization on a building site is tidiness and cleanliness. The storage of building material, tools and machines needed daily plays a crucial role in this. Access to a central Building Site Container prevents time-consuming searching and increases work efficiency.

The proven Building Site Containers from BOS Best Of Steel are ideally suitable. With different base areas (from 1x2 m to 5x6 m), the BOS Building Site Containers can exactly fit your needs and space requirements. BOS Building Site Containers have been in use for more than 40 years, are TÜV certified and have the GS mark, guaranteeing the highest operational safety!

The containers are delivered assembled or as an easy assembly kit – with 2 people and 5 minutes assembly time for a 3x2 m container, it is easily done. The containers can be dismantled as a matter of course after use and thus need little space, for example in the winter.

Additional benefit: especially on unguarded sites a high level of theft security is necessary – here as well the BOS Building Site Container offers a standardized and therefore cost effective solution.
Individual Accessories for your Building Site Container
Practical accessory items make the use of your Building Site Container even more efficient, shelving systems, access ramps, hose and cable suspensions provide and maintain operation-oriented storage. The anti-theft bar and burglar protection ensure high security. The tool-free mounted electrical package provides high working safety in the Building Site Container even in unfavourable light conditions.

Building sites change according to the progress and sometimes the location of the Building Site Container has to be re-chosen. This is particularly easy with a BOS Building Site Container because of jack rings which enable the container to be hooked up to crane gear and speedily relocated. Alternatively, the Building Site Container can be relocated using a forklift.
Every BOS Building Site Container is made of galvanized sheet steel, the manufacturer gives a 10 year guarantee against corrosion of the Best-Point-Joints.
BOS Best Of Steel offers its customers in addition to comprehensive and personal advice, the punctual delivery to almost any location, even directly on site. An own fleet of vehicles provides the necessary flexibility that the construction industry demands. Building Site Containers at any time and any place - one of the manufacturer's premises. All standard containers can be delivered in Germany within one week.
The BOS Building Site Container will become an indispensible part of your building site.
Get in touch with us today!