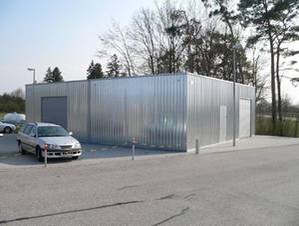 More space – space for ideas: Readymade warehouses from Best Of Steel
You need more space in general or only for a certain period? Are you looking for a warehouse for storage or do you need space for a big event? Would you like to create this extra space in a simple and straightforward manner?

At Best Of Steel you can definitely find the right readymade warehouse! Our range of readymade warehouses promise not only quality in material selection and processing of our warehouses, but is also characterized by flexibility in design and thus fulfils the highest demands on spatial concepts.
Multifaceted range of applications for readymade warehouses
The possibilities that readymade warehouses from Best Of Steel offer for use are virtually unlimited. BOS readymade warehouses are ideal as warehouses, building material or freight storage, as warehouses for garden waste composting, as storage space for textiles as well as garages and much more.

Our range selection and the extensive service package from which our customers benefit in the field of readymade warehouses, guarantee the uncomplicated and cost-effective adaptation of our readymade warehouse systems to individual needs or requests of our customers.

Due to their design possibilities, our readymade warehouses have numerous compelling advantages in comparison to solid constructions, such as:

Quick and punctual assembly of our readymade warehouses
Ground level surface instead of expensive foundations
Straightforward planning permission because of verifiable statics included in delivery.
Therefore our readymade warehouses are considerably cheaper than solid constructions and are ready for use after only a short period of time.

Best Of Steel, your specialist for readymade warehouses, can support you if requested from the planning through to the construction of your readymade warehouse, so that your personal warehouse is at your disposal within a short period of time. No matter whether you want to use our readymade warehouse as storage, a garage or otherwise.

One – two – three: the warehouse is finished
The prefabricated parts of your readymade warehouse can be set up cost effectively by yourself, or on request, with supervised or full assembly on site. In this way, the set up requires little of time and what you save in time, you win in quality, because the galvanized steel parts from which our readymade warehouses are produced guarantee the stability, durability and safety known from solid constructions. Best Of Steel stands for almost 50 years of the quality "Made in Germany".
We will be happy to provide you with detailed information and advice regarding the topic readymade warehouses. Should you already know what you want, ask for a free quote today.

Simply contact us!